Who doesn't love light? There's something comforting about being in a well-lit room. What's also great is that lighting comes in many different tones and moods. There's bright, clear light for productivity; dim warm light for more of a cozy or romantic mood; and a whole spectrum in between. Looking to install lights in your home? Look no further; our team of experienced electricians at Zar Electric have the answers you need!
The Benefits of Proper Lighting 
Proper lighting is useful in many different facets of life.
It is proven that the right amount of light can improve our moods, productivity, mental health, and quality of social interactions. By providing visibility, light also promotes safety.
Not only do fixtures such as ceiling fans, lamps, recessed lights, scones, and chandeliers let you express your style, but they also make your home look larger and more inviting. When having friends or family over, making sure your guests feel at home and comfortable is important.
Kinds of Lighting
There are three main types of lighting: general, task, and accent.
General lighting, also known as ambient lighting, provides comfortable, basic lighting that enables one to walk around safely and accomplish everyday tasks. This kind of lighting is usually accomplished by chandeliers, ceiling fans, wall mounted fixtures, recessed or track lights, and lanterns.
Task lighting is specifically used for highly sight-dependent tasks such as reading, sewing, homework, cooking, hobbies, etc. This kind of lighting can be implemented with track lighting, under cabinet lighting, strip lighting, pendant lighting, and portable lamps. Task lighting should be free of shadows and glare and be strong enough to prevent staining and squinting.
The last form of lighting is accent lighting which is purely stylistic and used to add a sense of drama and to promote visual interest. When decorating, it's ideal to use accent lighting in order to spotlight paintings and sculptures, houseplants, wall textures, or drapery.
Kinds of Fixtures
Smart Home Options
Smart home lighting has been around for a few years now and is improving every year. This kind of lighting setup is beneficial because it helps save money on energy. This is because a smart light allows you to be aware of when exactly your lights will be on. If you're out of the house and can't remember if you turned your lights off, you could check remotely, even from halfway around the world, and turn them off.
There are three main kinds of smart lighting setups: plug-in, wire-in, and bulbs.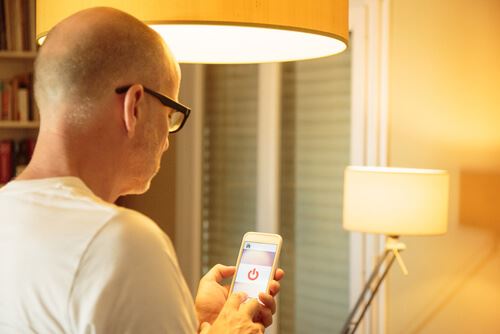 A plug-in setup allows you to plug in the technology into your lights. This allows you to turn average lights into automated ones. This method is best used for 1-2 rooms at a time.
The wire-in setup allows for more control, letting you control all the lights in your entire house.
Lastly, the bulbs mechanism allows you to remotely control your lights one by one without the need of a switch.
In addition, a variety of creative smart home lighting options are available in different brightness levels, tones, and shades. Some even change colors or flash in patterns. Other sophisticated options give you control over your ceiling fan as well. Even better, you can use timers, set schedules, and check energy usage from your phone. There's a diverse array of different lighting systems designed for homeowners who like to entertain, who are sensitive to bright lights, or who like to conserve energy.
You also get different ways to control your lighting. For example, you can install noise-controlled lights that respond to clapping or specific words or sounds. With this system, you don't even need to get out of bed to turn off the lights.
We're Here to Help!
There are a myriad of options for you when it comes to lighting up your home and Zar Electric is here to help you with any install you choose.
Call us today at (919) 200-6551 or contact us online and our Raleigh lighting experts will be at your door ready to help.