As much as we all love the summertime, it can come with its own difficulties. As we all know, summer is also storm season which can result in devastating tropical storms and hurricanes. In order to avoid these issues, you should look into preparing yourself and your home.
If there's a silver lining, storm season is at least predictable! This article will teach you the basics about being prepared for storms all year.
The Difference Between Tropical Depressions, Tropical Storms & Hurricanes
There are different levels of storms. They are different in size and potential damage caused. Understanding these differences can come in handy when preparing for incoming storms.
Tropical Depressions - These storms are made up of a collection of thunderstorms with fast winds ranging from 23 to 39 miles per hour.
Tropical Storms - Tropical storms form in low-pressure systems. Tropical storm winds span 39 to 73 miles per hour and are the stage storms reach before becoming hurricanes.
Hurricanes - Powerful storms that clock at 74 miles per hour at the minimum. Depending on the category (1-5), hurricanes can be mildly or catastrophically destructive. Regardless of the intensity, you should be sure that your house and family are well prepared.
Storm Preparedness Checklist
1. Secure your Home
Here's how you can secure your home if you're expecting a hurricane:
Use plywood or hurricane shutters to board up your windows.

Tie-down your roof with straps or clips to prevent your roof from being torn off by the high winds.

Clear your property of dead or weakened trees, branches, lawn furniture, or anything else that could be lifted by the wind and damage your home.

Clean out your gutters.

Secure your garage door.
2. Stockpile Supplies, Food, and Water
You're going to want to make sure you have enough water and food for three days. You're going to also want a crankable radio, first aid kit, flashlight, batteries, dust masks, tools, maps, and cell phones along with their chargers.
3. Don't Panic During Power Outages
Power outages can be scary especially if you're not prepared beforehand. Here's what can be done to get ahead of any potential issues:
Purchase a reliable surge protector to shield your valuable electronic devices like your computer from damage. Computers often contain very important information that can be difficult to retrieve. Be sure to keep your important files saved in a secure spot like a hard drive.

Make sure all your computers, copiers, printers, and monitors are shut off so nothing is forced off if you lose power.

Also consider investing in a generator that can keep essentials like your fridge, freezer, well pump, and outlets going if you lose power.

Instead of relying on a landline, have walkie-talkies and cell phones charged.
4. Be Careful and Watch for Electrical Hazards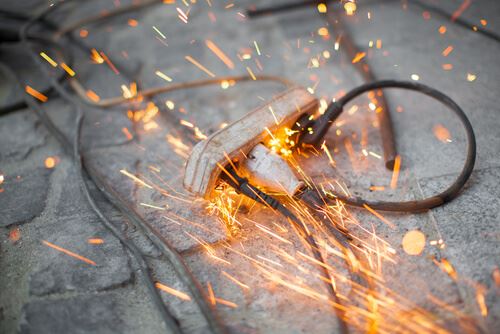 Stay away from power lines that have fallen, they could still electrocute you.
Keep away from wet areas like puddles, or even damp wood! These areas could be in contact with charged live wires that have fallen or otherwise come in contact with the ground.

Try to use flashlights instead since candles can cause a fire.

Make sure you and your family are acquainted with the circuit breaker. Everyone at home needs to know how to turn off the power if it becomes necessary.

If while in a car you notice that it is in contact with a downed wire, stay in the car until the local authorities let you know that it's okay to exit. The only time you should exit the vehicle in this situation is if your car catches fire.

Stay away from someone who is being electrocuted until you're sure they are no longer touching the source of electricity or else you be electrocuted as well.

Avoid using electrical appliances, devices, or wiring that were submerged in water. Make sure to replace these appliances because they are no longer safe to use.

When replacing a fuse or resetting a circuit breaker, make sure your hands are dry and you're not standing in anything wet.

Be careful when using portable generators. They can be deadly if they aren't used properly or installed correctly.

Always be alert.
5. Be Proactive by Installing a Whole-Home Surge Protector
Something else you can do to ensure your safety in the event of a storm is installing a whole house surge protector. Whole house surge protection is used in conjunction with the electrical panel and can protect your expensive or important appliances and devices from harm should there lightning strike or power surge in your area.
Need Electrical Repairs After a Storm?
If your home's electrical system is damaged in a storm, Zar Electric is here to assist you. We are dedicated to serving our community in Wake Forest, Youngsville, and the Raleigh area and we're only a call away: (919) 200-6551.