Light is one of the most useful tools we have. Not only does it allow us to navigate our homes safely, but it also has the power to influence our productivity, mood, and overall behavior. Since lights are so important it's likely that as a homeowner, at some point you will be interested in installing the proper lighting in your house.
If this sounds like you, you have come to the right place! If you're interested in learning more about the benefits of the right kind of lighting and what to look for, we have what you need right here.
Why Should You Care About Proper Lighting?
The right kind of lighting will come in different daily life situations. It is a scientific fact that depending on how much light we take in, light can trigger a release of dopamine in our brains that has the ability to improve our mental health, level of productivity, overall mood, and how we interact with others. Not only that, but light allows us to see where we're going, safely handle sharp tools, make fewer mistakes when filling out important forms, and much more.
Moreover, light fixtures don't just have physiological benefits, they also beautify our homes. There is a wide variety of fixtures available to you that you can use to decorate in the form of chandeliers, recessed lights, lamps, ceiling fans with lights, sconces, under-cabinet lights, and much more!
Ambient, Accent Lighting, and Task Lighting
The three kinds of lighting are ambient, accent, and task lighting. Ambient light is sometimes referred to as general lighting and is used to provide basic lighting to a room, often laying a foundation on which accent and task lighting can build on. Chandeliers, sconces, and other wall fixtures, track lights, recessed lights, and ceiling fans with lights all fall under ambient lighting.
Task lighting comes in handy for jobs where you will rely heavily on your sight. Activities such as cooking, sewing, reading, doing homework, or filling out important paperwork need adequate lighting. Task lighting will also reduce safety hazards if you're dealing with sharp or hot elements.
Finally, accent lighting is where homeowners can let their inner interior designer come out. Accent lighting allows you to spotlight works of art, plants, furniture, drapery, and wall textures. Use accent lights to introduce drama and contrast to your space.
Use Smart Home Technology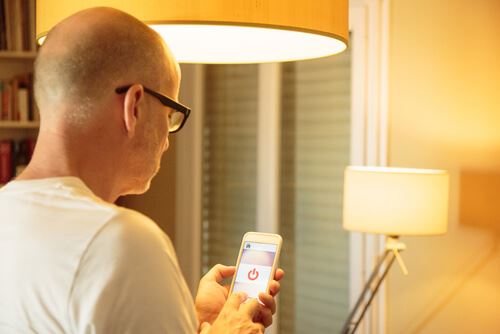 Indoor home technology is constantly improving. Smart home technology is now available for your house's lights, allowing you to save money on your energy bills. Many smart lights allow you to know exactly what lights are on and for how long.
Sometimes life is so hectic that we forget to turn our lights off when we leave the house. With smart home technology, you can check if your lights are on with your cell phone, your energy usage, and even turn them off.
The three standard types of smart lighting arrangements are bulbs, plug-ins, and wire-ins.
A bulb mechanism lets you control your lights one by one remotely without the need for a switch. A plug-in will let you plug the device into your lights, turning normal lights into "smart" ones. This technology can be used in one-two rooms at a given time. Lastly, a wire-in setup lets you control all your home's lights simultaneously. Finally, the bulbs let you control your individual bulbs one at a time without needing to use a switch.
What's great about these setups is that you can even set timers, schedules, and delays. Whether you're looking to entertain guests, or save energy, there is a smart home set up for you!
We're the Lighting Experts of Raleigh
Since there are so many options for you to choose from, we understand how coming to a decision can be overwhelming. You may not even know what kind of lighting works best with your home's electrical system. Give Zar Electric a call at (919) 200-6551! We would love to help you sort out your options and choose the best lighting for your home. Book your next appointment today and our electrical experts will be there in no time.