What is Ambient Lighting?
Homeowners use ambient lighting, also called general lighting, to light up a room with comfortable, basic lighting. These lights are useful for safely completing everyday tasks around the house, or simply setting the mood. You'll see this kind of lighting in the form of chandeliers, wall-mounted fixtures, recessed and track lights, and many others.
Furthermore, when used correctly, ambient lighting is a fantastic source of lighting conducive to a relaxing environment.
Why is Ambient Lighting Important?
Ambient lighting or general lighting is very important in our everyday lives. It allows us to safely navigate our homes, complete tasks effectively, and decorate our houses. There are two other main kinds of lighting which are task lighting, and accent lighting.
As the holiday season approaches, it's the perfect time to think about creating an inviting space for friends and family to get together, relax, and have a good time!
This article will focus on ambient lighting and many great options homeowners have when it comes to lighting up their homes.
Kinds of Ambient Lighting
Chandeliers
What is a Chandelier?
Firstly, what exactly is a chandelier? A chandelier is a light fixture that hangs from the ceiling. Chandeliers are a popular dining room fixture and are used for making a statement in living rooms and patios.
Types of Chandeliers
Picking the right chandelier comes down to personal taste and your lighting intent. Are you looking to make this installation for design or decor? Or, is your main mission to adequately light your room? Is it a combination of both?
Looking for the right ambient lighting fixture is the fun part, so consider these styles when decorating your home.
Modern Chandelier Design: These kinds of chandeliers sport a distinctive design that stands out from many other styles. Without a doubt, modern style chandeliers will give your home a current, aesthetically pleasing look while still being functional.
Rustic Chandelier Design: These generally sport a simplistic design with themes taken from naturism and the American west. You'll notice the use of wood, iron, and edison bulbs to achieve this kind of design.
Industrial Chandelier Design: Another similar style is the industrial chandelier design that uses wood and metal to imitate lighting that may have been present in a factory setting.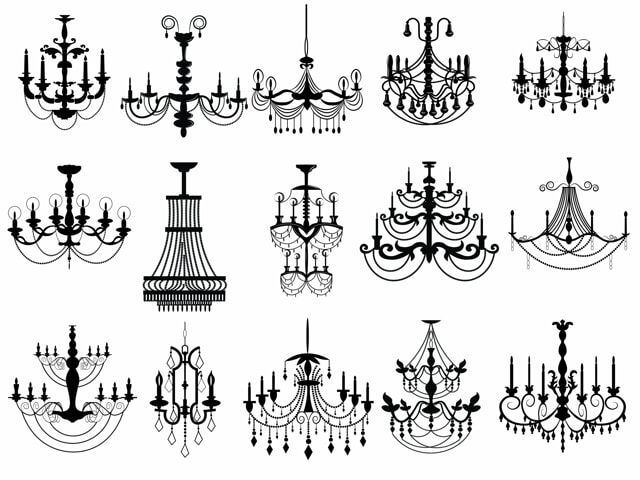 Shape
Once you've decided on the style of chandelier you want. You can start to look at shapes that compliment the space your chandelier will be adorning.
Finish and Material
Just like you would with any other piece of furniture, you want to make sure that the material and finish of your chandelier coincides with the rest of your decor. A chandelier can have a metal or glass finish which will give you options to match with other parts of your home or other light fixtures.
Lighting, Style, and Function
Next, you'll want to determine your chandelier's function in a room. There are two main kinds of chandeliers.
Uplight Chandeliers - Uplight chandeliers focus light upwards, and the various surfaces in its path reflect that light throughout the room.
Downlight Chandeliers - As opposed to uplight chandeliers, downlight chandeliers provide downward, more direct lighting.
3 Things to Think About when Choosing a Chandelier
Position - When hanging in an interior space, you want your chandelier to be as centered as possible for two main reasons. Aesthetically speaking, this is your best option because chandeliers are made to be observed from 360 degrees. This would also help visually balance the room. Secondly, you want whatever room you hung the chandelier in to have evenly distributed light.
Installation Height - When installed in a dining room, a chandelier should hang about 30 inches above the dining room table to provide adequate lighting without blinding those seated. If you have a higher ceiling than usual, calculate an extra three inches per each additional foot of ceiling light.
Brightness Level - Use square footage to calculate the best lumen count for ambient lighting in any room. The calculation is 300-400 total lumens per 100 square feet.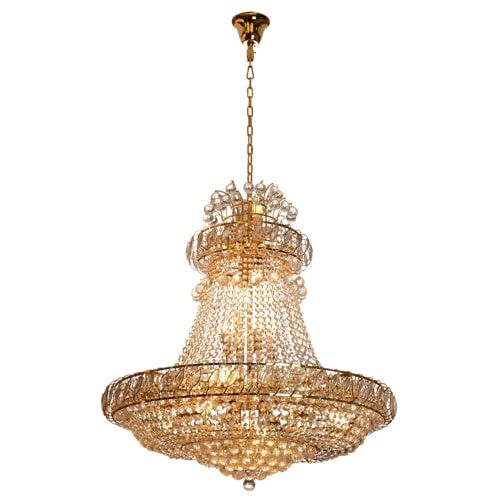 Decorating with Recessed Lighting
Recessed lights are also called can lights. Recessed lighting is lighting you mount within ceilings using ceiling joists to create a pattern of lights depending on the desired arrangement pattern. When hanging recessed lights, make sure no wiring or light fixtures are visible, and the lights are flush against the ceiling.
Benefits of Recessed Lighting
Not only do recessed lights look great, but they are also more subtle than other forms of ambient lighting. They're versatile and can be used in many different ways. Use recessed lights for uplighting, downlighting, wall lighting, and even ground lighting.
Additionally, they can be main sources of ambient lighting as well as serve as accent lighting for key decor in your home such as artwork and furniture.
The Components
Recessed lighting is made up of 2 components: the housing and the trim.
The housing - is the part that is recessed into the ceiling, wall, or ground. This part holds the light source, mounting, and some electrical pieces.
The trim - is what everyone can see once the recessed lights are installed. It's the stylistic part that gives the light its aesthetic look.
Kinds of Housing
New Construction - New construction housing is designed for spots with visible ceiling joists and no drywall. You can also use this housing for remodels if the space is being gutted.
Remodel - If the joists are not exposed or if you are looking to upgrade to an LED system, a remodel housing is necessary.
Retrofit - Arguably the best option for your wallet.
Kinds of Trim
Flangeless Trim - Fits seamlessly into the surface.
Flanged Trim - Offers a more protruding, prominent look.
Square Aperture Trim - A more modern look, provides a unique appearance.
Round Aperture Trim - More of a transitional style look with a classic design that goes well with any room.
Bevel Trim - This trim offers a visual depth that adds to the architectural appeal of the space.
Flat Trim - A clean, understated, minimalist, aesthetic.
Quick and Helpful Facts
Open reflector trims emit the highest level of uncontrolled light possible while baffle and specular trims reduce the amount of glare.
In the adjustable trims category, directional trims are the most flexible when it comes to directing lights, while gimbal trims are also flexible, they're not at the same level.
Implement adjustable trims on walls that can be washed or sloped ceilings.
Use wet location trims in areas that could get wet like a shower or sauna.
Kinds of Lamps
A Lamp - This is the most common kind of lamp. They're versatile, without any real outstanding positives or negatives.
R Lamp - These are best for spotlights, floodlights, and display lights.
Par Lamp - These are best for task and general lighting.
MR16 Lamp - These have great beam control, which makes them the perfect choice for accent lighting.
Whether you invest in chandeliers or recessed lights, ambient lighting is a must-have for any home. Take advantage of the fall season to get your home ready for the holidays and make new memories with friends and family.
Need help making the installations? Looking for a consultation or estimate? Call your favorite local electricians, Zar Electric! We're here for all your home's electrical needs.